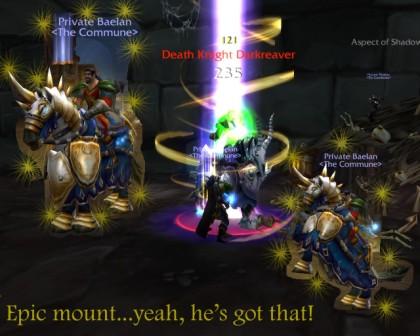 On February 28th 2006, the usual suspects ventured once again to the depths of Scholomance. This time, Baelan came out with some PHAT LEWT...a pretty new pony to trot around Ironforge on. Yay for Baelan!!!
Now pick a number and get in line...b/c this is one pony that everyone wants to ride!
Congratulations Baelan, and thanks goes out to Marlett and Thistley for keeping us up and alive (most of the time.../snicker) and to Jarroll for being his usual badass self!
Sorry if the picture didn't turn out so well, but I'm tired and my hands hurt...and that is my excuse...